The Foolproof Guide to Segmenting your Address Book
There are so many reasons why you'd want to search your address book. You could be looking for people who are ready to buy a house, friends to invite to a Caps game, or you're trying to plan a wedding. In this short article, I'm going to convince you why the new Pickle Search is better than your current address book. Let's begin.
Your current address book lets you search by the data that's in it. If it matches, you'll see the contact. If it doesn't, you won't see them. This makes it impossible to search for people who didn't RSVP 'yes' to your event. It's hard to find people who are looking to buy a home between $500,000 and $700,000 and it's hard to filter down a list of contacts by various fields. Your address book's search is two dimensional — it'll return contacts that contain your search query, and nothing else.
What you really want, is three dimensional search. You want a smarter search that can search on custom fields, can interpret ranges, and can search on fields that either don't exist or don't have a value. The new Pickle Search is three dimensional and easier to use than before. Here's how it works:
Search for anyone at any time in the quick search bar at the top (1). If you want a 3 dimensional search, click the search link to visit the following page: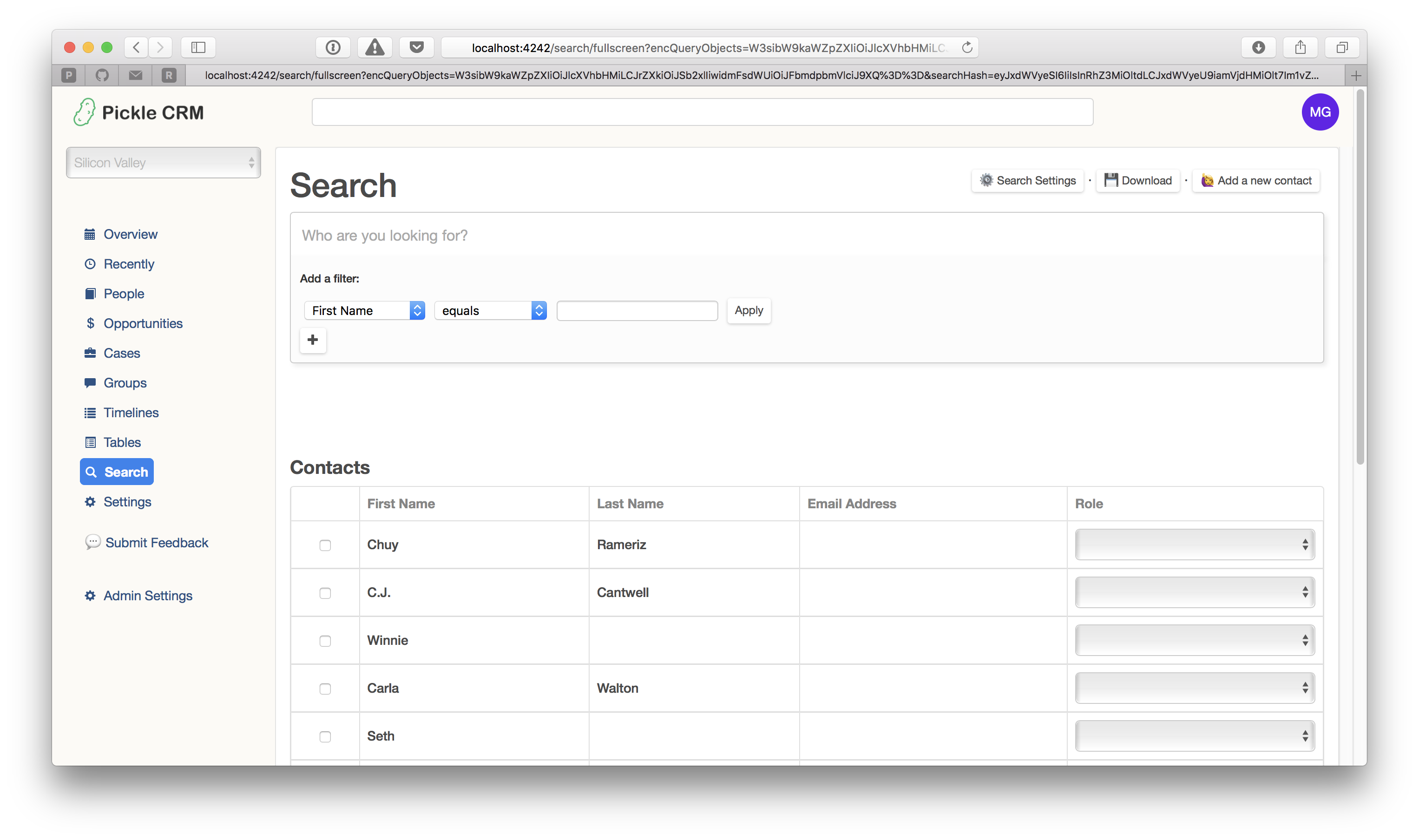 Let's say you want to find everyone who is an engineer. You can easily do that by adding a filter where their Role equals engineer.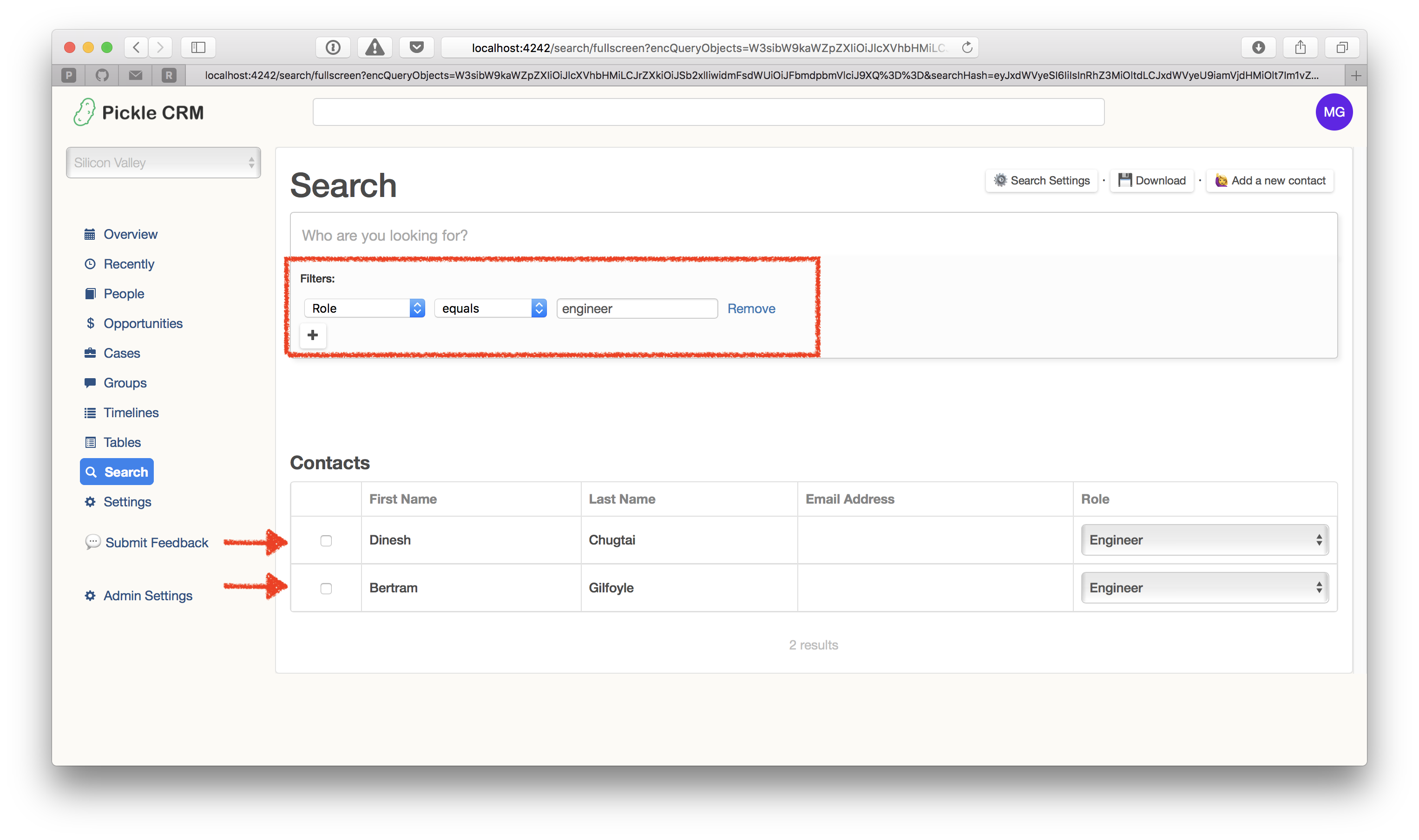 The coolest part is that you can store and search on anything you want. It could be their last visit to your office, how much money they've raised, what their favorite sports team is, if they've RSVPd to your event or not, and so much more. Pickle allows you to create unlimited custom fields which you can use to store anything.
Then, you can search using any of the qualifiers, which include: contains, equals, less than, greater than, does not equal, is blank, is null, is not blank, and is not null.
Pickle Search let's you build filters as sentences. Show me Contacts who's "Role equals CEO" or who's "Salary is greater than $50,000"
Here's a short video showing how we've created a Role and Amount Raised custom fields, then searching on it this data. We also change Gilfoyle & Dinesh's Role to Engineer.
So now you can create advanced searches based on any data that exists inside of Pickle. Here are a few use cases that people love:
Getting a list of people coming to a party who have RSVP'd yes and that need transportation to provide to the transportation company.
Finding out who gave us a wedding gift, what it was, and if we have or haven't sent them a thabk you note yet.
Getting a list of clients who are in the market to buy a house in San Jose, are qualified for over $1,000,000 and are actively looking. Then using this to email them about looking at open houses this weekend.
Downloading an excel spreadsheet including a list of bridesmaids, groomsmen, or other members of the bridal party.
Collecting a group of students who have completed a prerequisite for a course or have turned in a permission slip.
With unlimited custom fields, the new search is more powerful than ever. You can combine queries, download excel files, and share the search results with others in your account by sending them the link. You can't do this with your current address book.
Pickle Search makes it easier than ever to work smarter, not harder. You'll never worry about losing your address book again because we back it up safe and securely in the cloud for you.
Thanks for reading! You should sign up for Pickle: click here for a free 14 day trial.