Planning a Wedding with Pickle
Wedding planning is stressful. Really stressful. Because of this, I decided to create a better way to stay on top of things to feel more organized. By being more organized, we could make wedding planning more predictable and less stressful. It's a win-win!
Keeping your fiancé in the loop ❤
Pickle allows you to share the project with someone else (or multiple people).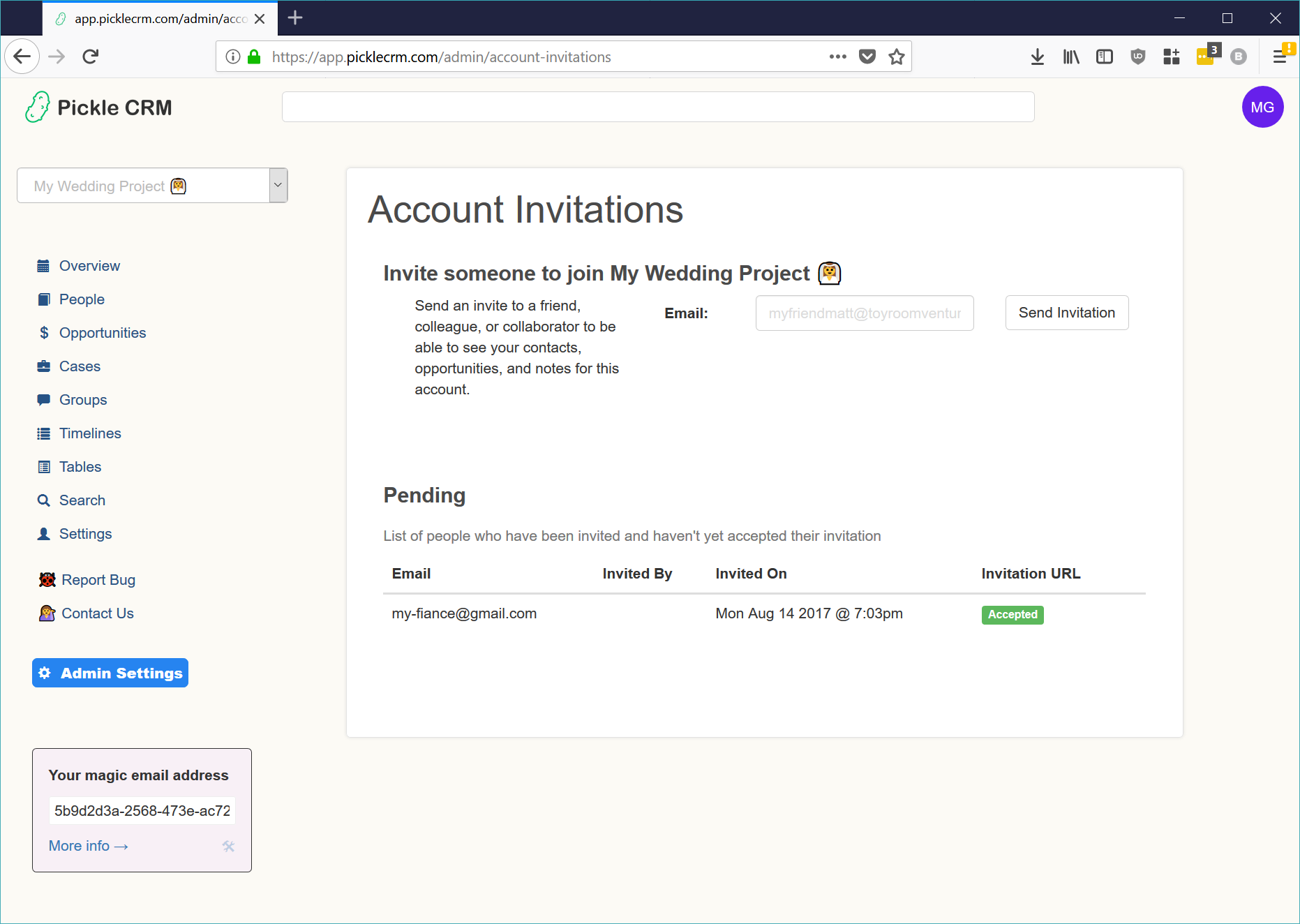 The cool thing is that when your fiancé leave comments, uploads files, or makes changes, you'll know about them so you don't have to say, "Hey, did you upload that file or do that thing yet?"
Keeping track of invitations 📩
One of the coolest things is being able to track invitations in real time. Here's a short video I put together about how we're doing that.
All your files in one place for the both of you 📁
One of the most useful and beneficial things we've done is shared files using Pickle. It's really helpful to know where contracts, photos, layouts, and other things are. Pickle makes this incredibly easy for the both of us.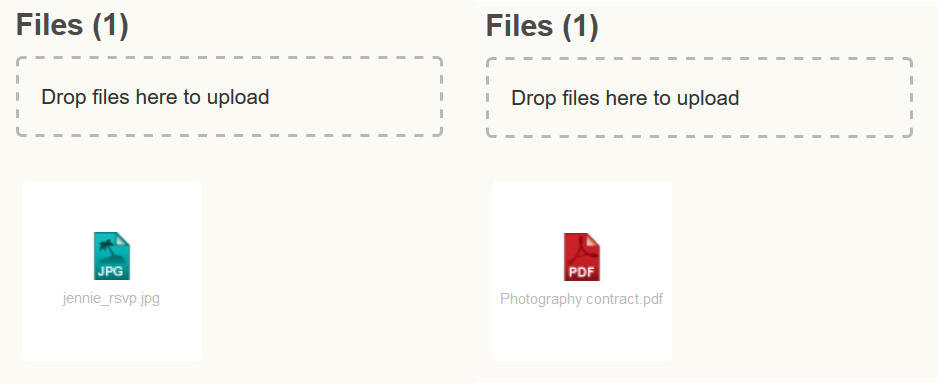 We've found it helpful to store photos of the RSVP cards, contracts, photos of gifts and receipts.
Integrating with the wedding website 🌐
While I built our website, and there are plenty of wedding website tools out there, having the amount of visitors and other information on the dashboard of Pickle is really helpful. We can check out everything at a glance and keep an eye on how many people are visiting the site.
Meal Choices 🥩 🍗 🥕
Some poeple may prefer Excel here, here's why Pickle is better: with Excel, the file usually lives on one person's computer; With Pickle, you can either upload that file, or use Pickle's custom fields to share any kind of data seamlessly.
It lives in the cloud, it's backed up so you won't worry about losing meal choices, and it's shared with your fiancé by default. Plus, if you need to share it with the wedding planner, you can do that in a snap.
Tracking gifts 🎁
We can all agree that tracking gifts and senders can be a tedious and vexing task. Breaking it down by doing a couple each day will help. With Pickle, we created a custom field which let's us store what gift we received (if any) so we can properly thank the gift giver.
We've received a few early gifts (our wedding hasn't happened yet). For each one that comes in I take a picture of the receipt and the gift, then attach it to their contact profile in Pickle. It really helps remember what they got us, plus, we'll always have the receipt handy in case something goes awry.
---
Pickle has made wedding planning much less stressful by helping us stay seamlessly organized, together. We never spend time looking for that contract, file, or RSVP so we can spend more time worrying about how we're going to fit into our outfits—pre-wedding diets are no joke!